Join My Free Affiliate Programs for Healthy Ionized Alkaline Water

RA Sticks, inexpensive alkaline water

Genesis Rejuvenator Water Ionizer $599.00 or Aquarius Rejuvenator Water Ionizer $879.00, make 10% commission

Hydrogen Friends - Got Hydrogen?

My FREE KYK WaterforLifeusa dealer capture page, Become a Water for Life afilliate, You Can Get One Too!
The Next Step - Affiliate Programs that cost a little
lifeionizers.com call Tye or Jackie 800-578-5939, make one sale referral and get 40% off, make 2 sale referrals and get a free machine, $69 dealer kit
Isis water Ionizer $1,395.00, Athena water Ionizer $2,095.00, Ionways.com affiliate program costs $87 to join
My Best Water Ionizer Prices
Compare to Similar Units Costing $1280 or more
Only $599.00 delivered, 5 day shipping,
anywhere within area known as United States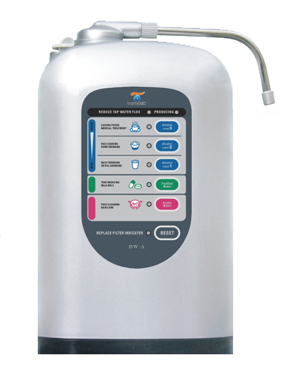 Typical Specifications, Unit delivered will be same OR similar unit and may not meet or may exceed these exact specifications:
Power and Voltage

Voltage:

A.C 220V/50 Hz or 110V/60Hz

Power Consumption

Less than 120W when working. Less than 4W when idle.

Body
Dimensions
170 x 98 x 291 mm
(L x W x H)
Weight
3.0 kg empty
(3.5 kg with water)
Maximum operating temperature
60 degrees Celsius / 140 degrees Fahrenheit

Applicable water pressure

0.7~3.5Kg/cm2

pH range:




4.5~9.5

pH levels:




3 alkaline and 1 acidic levels

ORP
alkaline:0Mv~-300mV, acidic: 0mV ~+300mV
Temperature protection device
Temperature activated auto-shut off.
Electrolysis
Water Flow Rate (Flux)
3.0 liters per minute
Electrode Material

titanium coated with platinum

Electrode Quantity

3 plates

Electrode Sizes

351 cm squared

electrolysis mode

continuous electrolysis

Electrolysis Strength

4 levels total:
3 Alkaline
1 Acidic

Cleaning

Auto reverse cleaning every 15 min of continuous use. Cleaning at start up and shut off.

Water Purifying Device
Filter

silver activated carbon

Filter Capacity

6000 Liters

Filter Life
10-12 months at 20 liters or 5 gallons filtered water per day.
Filter Replacement
Warning for refined filter element.
Replacement Indicator on device.


Alkaline Level 3
Making coffee and tea, Cooking food, Direct Drinking.
For making coffee excellent taste and texture.
Enhances tea by eliminating the acerbity while enhancing the tea's pure fragrance.
Benefits in cooking by preserving the foods original taste and decreasing the salt content within the food.
Alkaline Level 2
Drinking Water, Rinsing food, cooking water, etc.
Use to rinse food to prevent loss of vitamins while preserving original taste.
Alkaline Level 1
Drinking water in early stages.
Beneficial to introduce your body to the benefits of Alkaline water slowly by starting at a low Alkaline level and working your way up to a higher alkaline level.
Purified Water
Medicine taking, use in formula such as powdered milk, etc.
Highly refined filtration eliminates hazardous substances and impurities in your water. The unit features a compartment for adding additional (optional) micro-filter elements (food additives, vitamins, etc).The water will also flow through this compartment when activated to enhance your water with the microelements. It is good for taking your medicine or vitamins daily in your drinking water.
Acidic Water
DO NOT DRINK, acidic water use for facial wash and shower, for house hold sterilization and disinfection.
This moderate acid water works as an astringent lotion and can be used on your skin especially in sensitive parts such as the face. It benefits your skin by removing dirt, grease, and dead skin cells. The benefits of its use make the skin tender and smooth which is beneficial for makeup application. You can use this water over your whole body to increase your skins softness and smoothness. It is great to rinse your fruits and vegetables by naturally removing pesticides and other chemicals. It also naturally kills bacteria and viruses, good for use to sterilize and clean surfaces.
---
Microbiologist Ionized Water Blood Sample Examination -- Part one
Microbiologist Jason Fowler's Blood Examination Part Two
KYK Genesis Ionized Water Testimonial: Robin Ives
Diabetes recovery patient Aker Bey KYK Genesis Testimonial
KYK Genesis Ionized Water TESTIMONIAL -- Lee Cannon
KYK Genesis Ionized Water Testimonial - Pat Benfield
Cancer - Do searches on YouTube and Google for 'Cancer is a Fungus'
Also review the possibility of Using Ionized Water - Jason Fowler says he sees fungus in the blood.
Microbiologist Ionized Water Blood Sample Examination -- Part one
Microbiologist Jason Fowler's Blood Examination Part Two
Colloidial Silver
Super Natural Silver claims to kill all known pathogens. I know it kills staph infections.