We buy houses in almost any condition or price range. We find creative solutions to real estate problems. We can pay all cash, take over your payments or rent to own your house very quickly! We will handle all of the paperwork, make all the arrangements and close within a few days if necessary. You'll get a quick sale with no hassles, so you can put your worries behind you.
WHY IS GOOD PRICE HOMES, LLC DIFFERENT?
(See the comparison table below)
Good Price Homes, LLC is significantly better in urgent selling situations than both leading alternatives: (1) going through a real estate agent or (2) trying to sell your home yourself. The table below clearly demonstrates how and why Good Price Homes, LLC caters far more to your situation of urgency and costs you far less (stress and likely dollars) than either of the best alternatives. Compare the speed of our solutions to the gradual approach of a real estate agent. (A differing incentive propels Good Price Homes, LLC to a very instant purchase.)
Compare the anxiety of showing your house to strangers week-after-week with the singular, immediate relief that we provide to you instantly

Compare the many fees, commissions, and costs that you must pay when you use a real estate agent versus when you choose Good Price Homes, LLC.

Consider how long you must realistically continue paying mortgage payments, taxes, maintenance, and utilities under each alternative. Consider what happens with your past-due payments.

Compare the overall peace of mind that you will experience across each scenario.
If you are still not convinced after reviewing this comprehensive table of comparison, and reading the reassuring reasoning afterward, please call Good Price Homes, LLC and tell me your concern: 912-308-3934. Please remember, you take absolutely no risk calling Good Price Homes, LLC first. Your other two options remain entirely open to you immediately if you do not find our fast and choice-filled proposals helpful and peaceful.

Good Price Homes, LLC vs Top Alternatives
| | | | |
| --- | --- | --- | --- |
| Issues Important To You: | Real Estate Agent | For Sale By Owner | Good Price Homes, LLC |
| Certainty of Sale | No | No | Yes (or No immediately) |
| Tell You in 48 hrs if Can Sell Now | No | No | Yes |
| Wrap Up Sale within 7 days | No | No | Yes |
| You Pay 6-7% Commission | Yes | No | No |
| You Pay Appraisal Fee | Yes | Maybe | No |
| You Pay Title Policy | Yes | Yes | No |
| You Pay Deed Preparation | Yes | Yes | No |
| You Pay Closing Fees near 3% | Yes | Yes | No |
| You Pay Recording Fee | Yes | Yes | No |
| You Pay Survey Fee | Maybe | Maybe | No |
| You Pay Termite Inspect. | Maybe | Maybe | No |
| You Pay Escrow Fees | Yes | Yes | No |
| You Pay Home Inspection | Maybe | Maybe | No |
| House Is Listed, Among Many | Yes | Yes | No |
| You Spend Time/$ To Advertise | No | Yes | No |
| You Wait By Phone For Call | Yes | Yes | No |
| You Get Nuisance/False-Hope Calls | Maybe | Yes | No |
| Many Strangers Visit/View | Yes | Yes | No |
| You Must Keep House All-Neat | Yes | Yes | No |
| People Visit House/Fake Interest | Maybe | Maybe | No |
| You Choose Exact Move-Date | Maybe | Maybe | Yes |
| Incentive to Sell Is High | No | Yes | Yes |
| Loyalty Is To You First/Most | No | Yes | Yes |
| You Get Fair Price | Maybe | Maybe | Acceptable to you |
| You Get Above Market Price | Maybe | Maybe | No |
| Close With All Cash Probable | No | No | Yes |
| Non-Assumable Loan is Problem | Maybe | Maybe | No |
| You Are Given Choices | Maybe | Maybe | Yes |
| Home Repairs Stand In The Way | Maybe | Maybe | No |
| Takes 3-6 months to find buyer | Yes (often) | Yes (often) | No |
| Financing takes add'l 45-60 days | Yes (usually) | Yes (usually) | No |
| Financing Falls Through | Maybe | Maybe | No |
| Quick Relief from Mortgage | Unlikely | Unlikely | Likely |
| You are responsible for past-due mortgage payments | Yes | Yes | Not necessarily |
| Eliminate Listing Agreement | No | Yes | Yes |
| Eliminate House Showings | No | No | Yes |
| Peace of Mind Achieved | Less likely | Least likely | Yes |
The table that you just read demonstrates very clear differences.
Trying to sell your house on your own can be a costly, verifiable nightmare. While you continue to pay the mortgage, taxes, maintenance, utilities, and other costs, you have week-after-week of strangers trampling through your house, easily 'spooked' by anything that might appear to be 'wrong' with the house, and insincere statements of real interest in purchasing when such intention is often fleeting or entirely absent.
The real estate agent route poses its own set of problems:
Selling a house is usually an expensive and complicated process. That's why real estate agents make thousands (and sometimes tens of thousands) of dollars on a single sale. And agents usually list five, ten, even dozens of houses at the same time—satisfied with the probability that the houses they list will sell within 3 to 6 months or longer. It is very rare that an agent can give all of his or her properties close personal attention. Using a realtor method of selling your house reduces your house to one among many.
But when Good Price Homes, LLC buys your house, your house owns the spotlight. I am associated with a group of private investors and we buy a meaningful number of houses each month… in every price range. Good Price Homes, LLC uses private funds that require no long, drawn-out bank approvals. So we can act fast! I can usually close within 7 days…or as little as 72 hours. And there are no commissions to pay.
The biggest difference between Good Price Homes, LLC and listing with a real estate agent: An agent will list your house… hoping it sells within 3 to 6 months. Good Price Homes, LLC wants to buy your house… now! The difference to you, as seller of the house, is monumental!
Keeping time in mind, don't forget that it takes an average of 45-60 days for a committed, dedicated buyer to obtain financing approval to purchase your house—that's 45-60 days after the buyer is found… What if the financing falls through? The whole process could easily take longer than SIX MONTHS. This is not uncommon.
Also, please keep the numbers in mind: If you have a $175,000 house and try to sell it using a real estate agent, that could mean over $12,000 in commissions, around $5,000 in closing costs, and up to $6,000 in holding costs. Consider whether the realtor truly feels how immediately you need to find a buyer while you are paying the monthly mortgage, yard maintenance costs, insurance, taxes, and utilities. Costs are a real factor when using a real estate agent.
Real Example to consider, if you use a real estate agent:
List price of your house: $200,000
Price you are offered: $194,000 (nat'l avg. offer price is 3% less than list price)
YOU SACRIFICE:
Price gap between list/offer: $ 6,000
Agent commission: $11,640 (average 6%)
Repairs and paint: $ 2,500 (more or less)
Closing fees: $ 5,820 (average 3%)
Total cost to sell w/agent: $25,960*
Balance left after sale: $174,040 (available to pay off your mortgage, if enough)
(you may or may not have cash left over)
But wait, there's more... What kind of response would you get if you asked the real estate agent to pay your mortgage and all holding costs while it's on the market? At the very least you'd get a "You've got to be crazy" chuckle of some sort.
Here are some additional costs...
Mortgage Payment: $ 2,400 (assume 60 days for offer and negotiations)
Taxes and Insurance: $ 400
Miscellaneous: $ 300 (electric, water, gas utilities, maintenance, etc...)
Mortgage Payment: $ 1,200 (assume financing approved/closed in 30 days)
Taxes and Insurance: $ 200
Miscellaneous: $ 150 (electric, water, gas utilities, maintenance, etc...)
More realistic costs to sell w/agent: $30,610
Balance left after sale: $169,390 (only IF the entire offer, negotiation, financing all happens within 90 days.)
An Alternative To Sacrificing Money Unnecessarily
To avoid the high realtor-associated costs in the preceding table, and to experience an alternative first-hand, please call me at 912-308-3934. After a few questions, I am often able to present a real, actionable example of what I can offer you when we bypass the real estate listing process and cut out all unnecessary sacrifices.
Finally, consider the following:
When I buy your house 'as is' for a fair price on the date of your choice, I might help you avoid:
Putting your house on the market entirely
Struggling with the uncertainty of when it will sell
Making house payments you can no longer afford
Doing fix-up work to please a picky buyer
Becoming an unwanted landlord
Relying on an agent to perform or keep his/her promises
Digging into your pockets for cash if you have little or no equity
Relying on a bank to approve your buyer's loan
Having your buyer back out at the last minute
Paying prepayment penalties
Suffering from having the cash you need NOW tied up in your house
Making payments on a vacant house

Providing Home Solutions for Your PEACE OF MIND:
How to Beat the 'Non-Lending Market' without having to deal with toilets, trash, and tenants.
Here are your choices:

1. Rent it out and hope the market improves enough to sell it... eventually.
2. All Cash Now. Sell it at a discount for CASH if you have enough equity.
3. Owner Finance it. Get Some Cash Now, the Rest Later. Get a full market value selling price.
4. Lease with an Option to Buy - tenant/buyers are responsible for most home maintenance. Get a full market value selling price. Collect market or better rent during the lease period to cover your mortgage.
Are you trying to sell your home and not having any luck? Are you having to make 2 house payments or not able to move into your new house? Don't know what to do?
Whatever situation you're in, we can provide you with solutions to fit your needs!
We Can Help You Right Now
These solutions can save you time, money, and stress when compared to the traditional "list and wait" process. We may have the perfect solution for you to sell your property quickly and hassle-free.
We buy all types of property and offer many solutions.
---
Choice # 2 ALL CASH NOW

GET AN ALL CASH OFFER NOW

Want an ALL CASH OFFER on your residential or commercial property?
To determine what we can offer on your house, fill out the information form below.
---
Choice # 3 OWNER FINANCE

Tell Us What You Are Offering in Terms of Owner Financing

Fill out the information form below.
---
Choice # 4 Lease with an Option to Buy:

GET YOUR FULL ASKING PRICE
FULL MARKET RENT
BUYER PAYS CLOSING COSTS
with A Lease with an Option to Buy.
Would you be willing to sell your house with an agreement to receive monthly payments for a period of time, such as 36 months, and then at the end of the period, you would be cashed out for your full asking price at closing?
In the market today there are so many homeowners that want to sell, but can't compete with all the over-supply of short sales and foreclosures. There's also plenty of wanna-be buyers, but they can't meet current lending requirements.
This market doesn't work with the traditional Realtor model. But it works splendidly with the Lease Option model.
And sellers welcome this solution. It gets them a price they're looking for. It takes the burden of mortgage payments off their shoulder. It's a 'completely makes-sense solution'.
Imagine you're an average seller in this market. Your property has been listed and nobody qualified is interested. That's a common situation these days.
So, review your choices given above.
Choices #3 and #4 get a lot of attention. In fact these days, as many as 50% of sellers express interest in Choice #4 when they hear it.
Choice #4
Let Good Price Homes option to lease and purchase your home.
Since you're allowing the tenant/buyer to lease with an option purchase the home, you should be able to get your price as long as it is realistic and not above fair market value.

We don't charge any fees to the seller. You pay nothing to us!

Less maintenance! Most maintenance is up to the tenant/buyer

Tax benefits! You can still receive benefits such as depreciation, etc.

We can fill the house quickly. With our large database of tenant/buyers, that we constantly add to, we can normally assign the option within 45-60 days.
Better quality tenants! These aren't renters, these are tenant/buyers. They fully intend on exercising the option as soon as they can qualify.

Since they are going to buy the property, as a rule, tenant/buyers take good care of the property and keep it well maintained. We also recommend the tenant/buyer purchase a Home Warranty to eliminate the repair worry and ensure necessary repairs are done.

If this sounds interesting to you, please take a minute to submit our Seller Information form below. If you have further questions, take a look at our Sellers FAQ or feel free to contact us. We'll answer any questions as quickly as possible. We look forward to hearing from you!
Accurately Determine What Your Property is Worth
Registered Sellers who have given us an option to lease or an option to buy their property are given Free Access to our Rent-to-Sell Classroom. Included in the course is a class on Accurately Determining What Your Property is Worth.
If You Owe More Than Your Property is Worth
you may be able to give the market time to correct itself. If not, it may be possible to do what is known as a 'residential back flip' or a short sale.
We can Customize An Offer For You
We make it easy to do business with us. We walk you through the process and do most of the work so you don't have to!
To determine what we can offer on your house, fill out the information form below.
Or simply call us immediately at
912-308-3934

Submitting this form will give us enough information so we can quickly give you the answers you need when we contact you.
Thank you in advance for contacting us. We will contact you as soon as possible.
It's Easy! Just Fill out the form below:
---
Our Rent to Own SELLER Intro Form:
---
Sell Your House All Cash or on Terms, either way, You Win!
Just Pick Up the Phone and Tell Us What You Need
912-308-3934
Call Now
---
If you have missed 2 or more payments and are experiencing problems with your lender then you should immediately download
"The Top Seven Financial Pitfalls Every
Homeowner Facing Foreclosure Must Avoid"
By Gene Robinson, Manager, Good Price Homes, LLC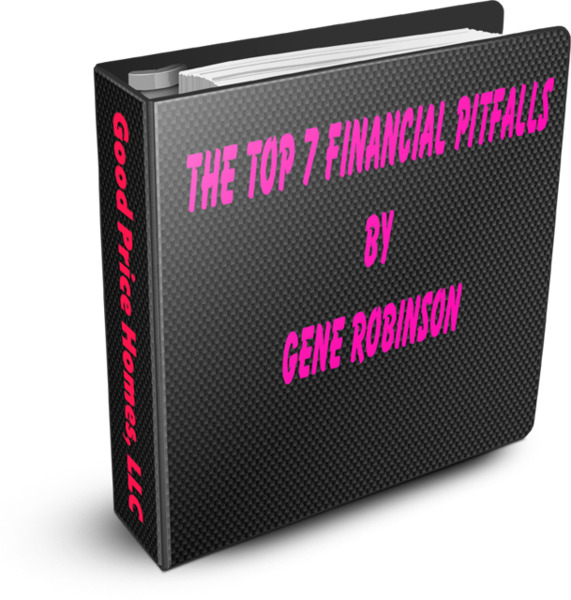 The foreclosure process is perplexing, even for those experienced in real estate. Real estate agents, attorneys, mortgage brokers, title companies, real estate investors and other real estate professionals all have differing views on the foreclosure process and what is the best route to take when a homeowner faces this difficult situation.
Good Price Homes helps to educate homeowners about foreclosure. This report has helped real estate agents, mortgage brokers and homeowners to better understand the foreclosure process and The TOP SEVEN FINANCIAL PITFALLS that occur in a home foreclosure.
For your FREE Copy of "The Top Seven Financial Pitfalls" enter your email address below.
Do Not Let Your Property Go To Foreclosure . . . That Just May Be The Worst Possible Decision You Could Make.
---
Our Mission:
Good Price Homes incorporates proven, professional state-of-the-art techniques specializing in the marketing, buying, and selling of homes. Our mission is simple: Be the best at every aspect of our business via unparalleled service, unique programs, and professionalism at all times. We are the solution to sellers with fast, fair, no hassle closings. We offer incredible value to buyers through our unique financing programs. We strive to be a positive impact in our community as well as improve the lives of our customers through our standards and service.
Good Price Homes operates as principal and does not represent buyers or sellers. We take an option on the property to lease and to purchase and only assign our option to a tenant/buyer with the previous owner's approval of that buyer.